32 S. LEXINGTON AVE
828.630.0330
WEDNESDAY - SUNDAY
8am-10pm
*new* upstairs pintxo & wine bar open at 11am
LA BODEGA BY CÚRATE
La Bodega by Cúrate is an all-day Spanish café, market and wine bar. On April 9 2022, the concept expanded into a newly remodeled two-story space at 32 S. Lexington Avenue. Helmed by Chef de Cuisine Matt Brown, La Bodega is a concept born out of the pandemic that brings together the cornerstones of the Spanish culinary and cultural experience. The first floor's 14-seat café continues to offer an all-day menu featuring house made bread and pastries, along with Spanish-style sandwiches like the Bocadillo jamon, Catalan flatbread or "coca", and grab-and-go bottled gazpacho, salads and more. 
At the wine and pintxo bar, Brown expands the menu to highlight Spanish bodega classics, with a collection of pintxos and conservas, charcuterie, sandwiches, and small plates. A selection of Spanish wines are available on draft, as well as a large selection available by the glass and  bottle, all handpicked by Jessica Salyer, Cúrate Wine Program Manager and Felix Meana.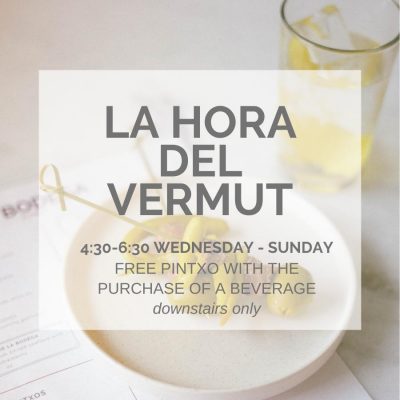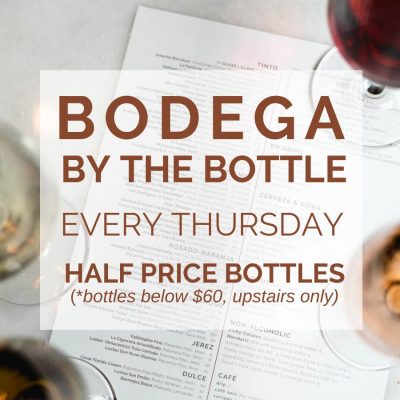 SAMPLE MENUS
PLATO DEL DIA
Wednesday 
Paella seasonal vegetables or seafood
Thursday
Chuleta de Cerdo bone-in pork chop, herb-pine nut sauce, rancho gordo bean salad
Friday 
Pescado Rebozado fried fresh catch, patatas fritas
Saturday 
Huevos Rotos sliced paleta and fried eggs over french fries
Sunday
Arroz a la Cubana rice, tomato sauce, fried egg, plantain
What are the hours? La Bodega by Cúrate serves guests Wednesday-Sunday from 8:00am-10:00pm. Counter service is available from 8am-6pm. The upstairs wine bar and pinxto bar is open for brunch, lunch and dinner beginning at 11:00am each day, closing briefly from 3:00-4:30pm to reset for dinner. Guests are welcome to shop the Spanish market during all open hours. La Bodega does not take reservations. Drop by or call to add your name to the waitlist. 
How far in advance can orders be placed? Generally, take out orders can be placed 2 weeks in advances. Note that specials change frequently, so be sure to check availability dates when placing your order.
Do you offer gift cards? Yes. Gift cards are available to purchase in the restaurant and online. You can choose either an e-card that will be emailed or a physical card that will be mailed. At the moment, we are not able to accept Cúrate Bar de Tapas gift cards at La Bodega by Cúrate, Cúrate at Home or through the Cúrate Spanish Wine Club. If you would like your gift card transferred to another business, please email shop@kbr.email your request.
Do you have outdoor seating? Yes. We offer limited bar-height seating on the sidewalk outside of the restaurant..
Can I bring my pet? Due to N.C. Department of Health & Human Services regulations, pets are not permitted inside the building; however, official service animals are welcome.
Do you take reservations? We do not take reservations. Guests are hosted on a first come, first served basis.
Will La Bodega host private events? We do not book private events at this time. If you're interested in booking a private event, see available options here.