WELCOME TO CÚRATE
Cúrate is a guided journey into the culinary treasure troves of Spain. Our collection of restaurants, online marketplace, wine club, and culinary journeys create a portal to Spanish culture.
As partners in business and love, Katie Button and Felix Meana and family built Cúrate on its Spanish meaning –"heal yourself." They believe that discovering new flavors can unite people in a delicious moment of wonder and joy that cures the soul.
We invite you to do as the Spanish do and take the time to savor these moments – whether you're visiting our nationally acclaimed flagship restaurant, Cúrate Bar de Tapas; indulging in our modern, all-day Spanish experience at Cúrate La Bodega; embarking on a Mediterranean food and wine adventure with Cúrate Trips; or recreating the Cúrate experience anywhere you please by joining the Cúrate Wine Club or snagging some of our go-to Spanish bites from our online gourmet marketplace, Cúrate at Home.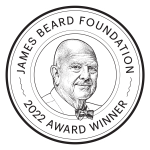 UPCOMING EVENTS
There are no upcoming events.