WELCOME TO CÚRATE
Cúrate is a guided journey into the culinary treasure troves of Spain. Our collection of restaurants, online marketplace, wine club, and culinary journeys create a portal to Spanish culture.
As partners in business and love, Katie Button and Felix Meana and family built Cúrate on its Spanish meaning –"heal yourself." They believe that discovering new flavors can unite people in a delicious moment of wonder and joy that cures the soul.
We invite you to do as the Spanish do and take the time to savor these moments – whether you're visiting our nationally acclaimed flagship restaurant, Cúrate Bar de Tapas; indulging in our modern, all-day Spanish experience at Cúrate La Bodega; embarking on a Mediterranean food and wine adventure with Cúrate Trips; or recreating the Cúrate experience anywhere you please by joining the Cúrate Wine Club or snagging some of our go-to Spanish bites from our online gourmet marketplace, Cúrate at Home.
UPCOMING EVENTS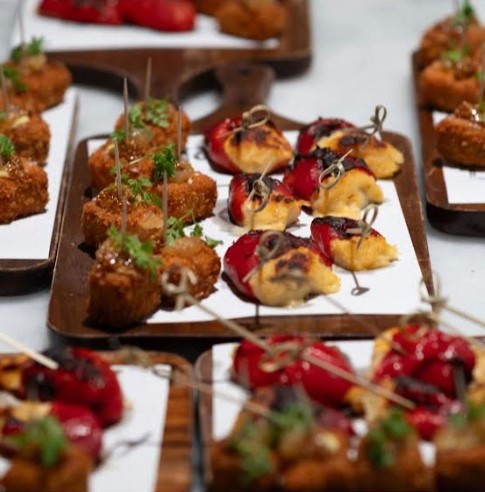 'Tis the season for the return of La Bodega's Pintxo Party! The perfect reason to deck the halls with flavors and festivities! In the spirit of collaboration, we welcome the dynamic duo, Katie Grabach & Peyton Barrell, the magic makers behind Gourmand. Together, we'll embark on a culinary journey inspired by European indulgences, perfectly orchestrated by La Bodega's Chef de Cuisine, Matt Brown, and the incoming Chef de Cuisine, James Jeffries.
The wine selections, curated by Jessica Salyer and Felix Meana, stem from the December Curate Wine Club, shining a light on the 'Three Kings of Spanish Winemaking' – Pepe Raventós, Raúl Pérez, Álvaro Palacios. Sip, savor, and celebrate the magic of Spanish wines. This is a reception-style soiree, where mingling is not just encouraged but practically wrapped up in a bow. We're channeling the true spirit of pintxo culture, so let's snack, chat, and toast your way into the holiday season!
For any questions about the menu, allergy considerations or mobility concerns, please contact La Bodega directly. hello@labodegabycurate.com / 828-630-0330
7% tax and 20% gratuity will be added at checkout