 closed monday
tuesday-thursday 4pm-10:30pm
friday-sunday 11am-10:30pm
13 biltmore avenue
asheville, nc 28801
(828) 239-2946
CÚRATE BAR DE TAPAS
Experience the essence of Spain in downtown Asheville! Housed in a renovated 1920s bus depot, Cúrate offers traditional Spanish tapas in a warm and lively atmosphere with an open kitchen. in 2022, Cúrate, helmed by Katie Button & Felix Meana, received the James Beard Foundation Award for Outstanding Hospitality.
For those who have visited Spain, the Cúrate menu will bring back memories of the country's best jamón Ibérico, vermuterías, and lively tapas culture. In recognition of the restaurant's all-Spanish wine list, Cúrate was listed as one of America's 50 Wine Restaurants We Love in 2021 by Wine Enthusiast Magazine. Cúrate means 'cure yourself' in Spanish, reflecting the belief that there are curative effects in sharing good food and wine with family and friends.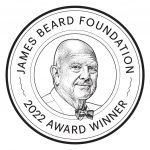 para el aperitivo / snacks
aceitunas cúrate (GF, LF, V, TNF)
blend of olives with piparra, lemon, rosemary and thyme
almendras fritas (GF, LF, V)
fried marcona almonds with sea salt
gilda (GF, LF, TNF)
skewer of anchovy, olive and piparra
pan con tomate (LF, V, TNF)
toasted ciabatta with fresh tomato, garlic and olive oil
add manchego cheese
matrimonio (GF, LF, TNF)
boquerones (vinegar-cured anchovies) and anchoas (salt-cured anchovies) together on a plate
boquerones / anchoas
la jamoneria / charcuterie & cheese
sobrasada casera
housemade pimentón-spiced spreadable cured sausage with goat cheese, honey and crostini
(TNF, LF: no cheese, GF crackers upon request)
salchichón casera 
housemade cured salami-style sausage with peppercorn and nutmeg
(TNF, GF crackers upon request)
chorizo casera
housemade dry-cured sausage with pimentón de la vera and garlic
(TNF, GF crackers upon request)
cinco jotas jamón ibérico
world famous cured pork – 100% pure iberian pigs are
acorn-fattened and free range, resulting in a unique and exceptionally nutty flavor (LF,TNF, GF crackers upon request)
jamón de bellota (back leg cut)
paleta de bellota (shoulder cut)
lomo de bellota (loin cut)
tabla de quesos
selection of three spanish cheeses and accompaniments
gluten free crackers available upon request
tapas / small plates
chistorra & chips josé's way (TNF)
house-made spicy chorizo wrapped in potato chips; the perfect snack
berenjenas con miel (TNF)
fried eggplant drizzled in honey from honey + the hive and garnished with rosemary
croquetas de setas
traditional creamy mushroom fritters (TNF)
patatas bravas* (LF, TNF)
crispy fried potatoes topped with a slightly spicy tomato and garlic sauce (V: no all i oli)
ajo blanco con cangrejo 
chilled almond and garlic soup, jonah crab, grape ice, and px reduction (LF)
ensalada de esparragos y ajo tierno
salad of baby lettuces, green asparagus, radish, citrus, yogurt, marcona almonds, manchego, and green garlic vinaigrette (GF) LF: no yogurt/cheese, TNF: no nuts
escalivada (LF, TNF)
roasted red bell peppers, onion, and eggplant served chilled with reserve sherry vinaigrette and toasted baguette
add anchoas (GF: no bread)
pimientos de piquillo rellenos (GF,TNF)
piquillo peppers stuffed with spanish goat cheese
salteado "a la catalana"
sauteed seasonal greens, pickled blueberries, pistachio praline, candied pistachios, sweet onion (GF, LF) V: no sherry
zanahorias con romesco
josper roasted local carrots served over romesco sauce (LF, V) GF, TNF: no romesco, no hazelnuts
setas al jerez
a selection of mushrooms sautéed with a splash of sherry (GF, LF, TNF, V: no sherry)
migas con verduras
coal roasted brussels sprouts, cauliflower, raisins, and fried 'migas' breadcrumbs, with a savory yogurt mousse (TNF,GF: no breadcrumbs, LF: no mousse)
pulpo a la gallega
galician style octopus served warm with sea salt, olive oil, spanish paprika, and yukon gold potato purée (GF, TNF, LF: no puree)
gambas al ajillo
sautéed shrimp in a sherry broth with sliced garlic , bay leaf, and an arbol chili , served with toasted baguette (LF, TNF, GF: no bread)
almejas
steamed clams from clammer dave in sc, with pork belly, chickpeas, sofrito, white wine, mojo verde (TNF, GF) LF: no butter
vieiras
seared scallops served with charred leeks and confit potatoes (GF,LF, TNF)
morcilla casera
house-made blood sausage, cipollini onions, goat cheese, toasted pine nuts, and sherry vinegar reduction (GF)
cerdo iberico
rotating cut of charcoal grilled ibérico pork, served with charred rosemary and thyme (GF,LF,TNF)
raciones / larger plates
rossejat
thin noodles prepared paella-style, squid in its ink, shellfish stock, all i oli* and salsa verde – the essence of the ocean (TNF)
trucha al horno
charcoal grilled trout, butterflied and served whole over a parsley and hazelnut picada (GF, LF)
pincho moruno*
lamb skewers marinated in moorish spices from spicewalla, served with cucumber pickles (LF, GF, TNF)
butifarra a la plancha*
house-made catalan style pork sausage served with
marinated lima beans from rancho gordo, confit tomato,
and garlic all i oli (GF,TNF)
postres / desserts
"affogato" de chocolate y avellanas
dark chocolate ice cream, caramelized hazelnuts, chocolate meringue, roasted chilies, shot of espresso (regular or decaf) (GF)
arroz con leche
rice pudding, mixed berry compote, lemon powder, white chocolate, saffron candy (GF, TNF)
tarta liquida
made to order marcona almond liquid tart, pedro ximénez-cherry sorbet, sherry reduction, amarena cherries
tarta de santiago
classic almond cake, clementine compote, spring herbs, goat yogurt
ice cream (GF)
food allergies?
please notify your server!
GF: Gluten Free
LF: Lactose Free
V: Vegan
TNF: Tree Nut Free
we compost all paper & food materials
our bread is produced in a facility handling tree nuts, milk, eggs and soy
* this menu item contains raw or undercooked meats, poultry, seafood, shellfish or eggs; consuming raw or undercooked meats, poultry, seafood, shellfish or eggs may increase your risk of foodborne illness
FREQUENTLY ASKED QUESTIONS
What other options are available if we aren't comfortable with dine-in? If you are unable to secure a reservation, or if you aren't yet comfortable with dining out, try La Bodega by Cùrate – cafe, Spanish market and wine bar.
Is there parking available? We do not offer on-site parking or valet service, but the City of Asheville offers several parking garage options. See parking garage locations and pay rates.
Do you take reservations? Yes. Reservations are required, and can be made up to 60 days in advance through Resy for parties less than 12. For future events of parties of 12 or more, explore our group offerings.
Do you charge for cancelled reservations? While we do not charge for cancelled reservations, we appreciate as much advance notice as possible.
Do you allow walk-ins? Availability for walk-ins is very limited. Guests are welcome to stop by and ask the host team about availability during service.
Can I bring my own wine? Yes. You're welcome to bring wine. We charge a $20 per bottle corkage fee.
Do you have outdoor seating? No. All of our seating is indoors.
Do you offer gift cards? Yes. Gift cards are available to purchase in the restaurant and online. You can choose either an e-card that will be emailed or a physical card that will be mailed. At the moment, we are not able to accept Cúrate Bar de Tapas gift cards at La Bodega by Cúrate, Cúrate at Home or through the Cúrate Spanish Wine Club. If you would like your gift card transferred to another business, please email shop@kbr.email your request.
Do you have a dress code? No. You are welcome to wear whatever you like.
Do you allow children? We welcome children of any age! Highchairs and booster seats are available upon request. We do not offer a children's menu, but our service team is able to provide guidance on kid-friendly items. Please include children in your final guest count even if they will not be dining.
Can I bring my pet? Due to N.C. Department of Health & Human Services regulations, pets are not permitted inside the building; however, official service animals are welcome.
LOCATION