32 S. LEXINGTON AVE
828.630.0330
TUESDAY - THURSDAY, SUNDAY 9AM-9:30PM
FRIDAY, SATURDAY 9AM-10PM
LA BODEGA BY CÚRATE
La Bodega by Cúrate is a Spanish restaurant, market and bakery in Asheville, North Carolina. For visitors and locals alike, La Bodega brings the feeling of a European cafe to the mountains, a respite from the busy bustle of downtown, tucked on a quiet street behind Cúrate. 
The charming, casual nature of La Bodega is a window to daily life in Spain. For owners Katie Button & Felix Meana, this means sharing the morning tradition of a housemade croissant and perfect cortado, finding time for a leisurely lunch, meeting up with friends for la hora del aperitivo, and enjoying dinner alongside sips of superbly paired wine. 
The menu, imagined by Chef de Cuisine Matt Brown, is a creative ode to thoughtfully sourced ingredients, highlighting flavors that build on one another until a seemingly simple dish becomes a complex discovery of bold tastes. 
At lunch, favorites include bocadillos built on housemade baguettes, a cult-status hamburger with local beef and Ibérico pork, seasonal salads and soup. As the menu transitions to dinner, masterful pintxo and charcutería spreads are accentuated with Spanish-inspired small plates like pescadito frito, fried anchovies with lemon and a bright, green peppercorn mayo, or costillas, fall-off-the-bone tender pork ribs coated in salsa kalimotxo. Each day's plato del dia, a rotating dish of the day, is reminiscent of the daily specials listed on sidewalk menu boards throughout Spain and includes classics like paella on Wednesdays and huevos rotos on Saturdays. For the intrepid, The La Bodega Experience tasting menu guides guests through a delightful, completely curated experience. 
A cornerstone of the La Bodega by Cúrate concept is connecting guests to the world of Spanish wine, both through the wine bar and the market downstairs. Beyond wine, the beverage menu features Spanish-inspired cocktails, exciting non-alcoholic options, as well as a full range of Counter Culture espresso-based drinks. 
Not just for weekends and date nights, La Bodega by Cúrate inspires guests to savor small moments every day.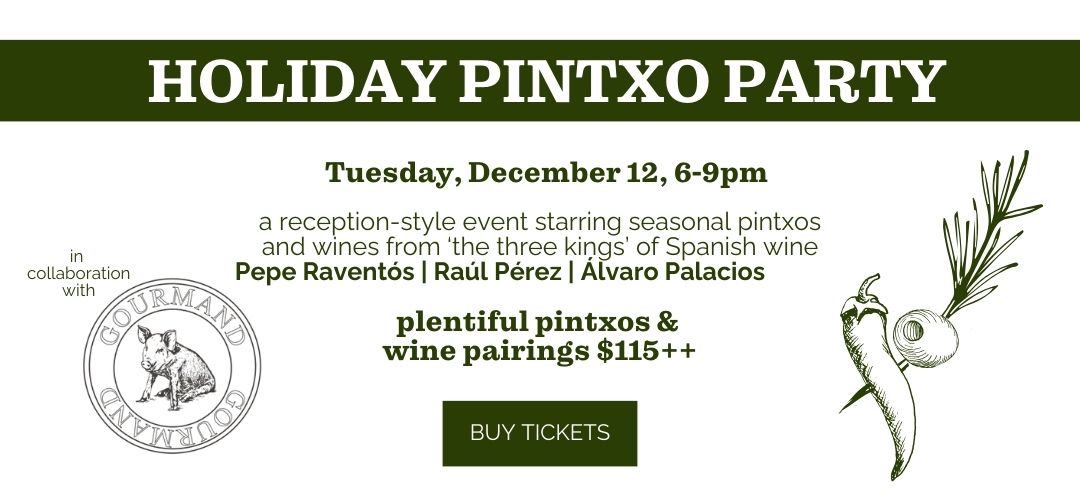 What are the hours? La Bodega by Cúrate serves guests on Tuesday-Sunday from 9:00am-9:00pm. Counter service is available from 9am for breakfast pastries with a counter service menu available at 11am-4:30pm. The upstairs restaurant and bar is open for brunch, lunch and dinner beginning at 11:00am each day. Guests are welcome to shop the Spanish market during all open hours. La Bodega accepts reservations, and reservations are recommended during peak hours to avoid a wait.
Is La Bodega able to host large groups? La Bodega is able to host groups of up to 16 people. We encourage large groups to opt-in to the La Bodega Experience, available for booking through our reservation system or by emailing us here.
How far in advance can orders be placed? Generally, take out orders can be placed 2 weeks in advance. Note that specials change frequently, so be sure to check availability dates when placing your order.
Do you offer gift cards? Yes. Gift cards are available to purchase in the restaurant and online. At the moment, we are not able to accept Cúrate Bar de Tapas gift cards at La Bodega by Cúrate, Cúrate at Home or through the Cúrate Spanish Wine Club. If you would like your gift card transferred to another business, please email shop@kbr.email your request.
Do you have outdoor seating? Yes. We offer limited bar-height seating on the sidewalk outside of the restaurant..
Can I bring my pet? Due to N.C. Department of Health & Human Services regulations, pets are not permitted inside the building; however, official service animals are welcome.
Do you take reservations? We accept reservations, and securing a reservation is recommended during peak hours to avoid a wait.
Will La Bodega host private events? La Bodega books limited private events and buyouts. If you're interested in booking a private event, email groups@kbr.email