Benevolent Spirits:
Haywood Street Community Development
Sign up your business to support affordable housing in Asheville this holiday season!
We are activating our Benevolent Spirits fundraising format in support of Haywood Street Community Development's new endeavor at 339 W Haywood Road, carving out space for affordable housing in downtown Asheville.
In the past, this program was only activated within the local, independent restaurant community, but because of a generous offer to match Benevolent Spirits donations up to $250,000, we are expanding the program to ANY LOCAL BUSINESS that would like to participate.
Please sign up at the form below.
Each participating establishment will choose an individual item, or a category of items from their menu or offerings to feature for the Benevolent Spirits program. Businesses will increase the price of that item or category by $1 (or more if that makes sense for your business) for the time period of the program – December 19-January 2.
At the end of the program, all of the additional money generated by that item or category will be tallied, and donated directly to Haywood Street Community Development through the link provided.
Cúrate never handles the donation directly, it's made directly from your business to Haywood Street Community Development.
Downloadable posters, info sheets and social media graphics are available at the links below. Please let your guests and patrons know what item you're featuring so that they're able to help support affordable housing development in Asheville.
If you are unable to print posters or if you have any other questions about participating, please email info@kbr.email.
Please sign up at the form below so your business is named as a participating business in media outreach. 
Haywood Street Community Development has plans to construct an apartment building containing 40+ deeply affordable rental units in downtown Asheville, with a building footprint and design details informed by Haywood Street's core values.
Wanting to overwhelm residents with an experience that contrasts with traditional low-income housing, the West Haywood Street apartments will be constructed with premium materials: stainless-steel appliances, luxury vinyl tile flooring, granite countertops, 9-foot ceilings and private balconies. The intent is to create an atmosphere that speaks of individual worth, to create homes, not just housing.
Potential tenants include service industry workers, 3rd shift laborers, formerly homeless residents and families struggling to make ends meet. All units will be affordable to individuals and families with incomes less than 80% of Area Median Income (AMI); more than half will be affordable to individuals with incomes less than 30% of AMI.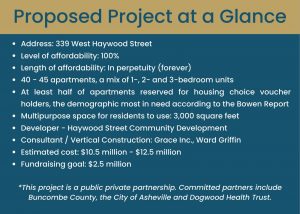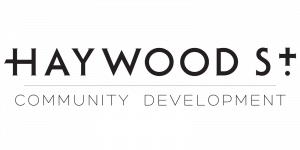 In early December 2022, we learned that Tom Blanton, board member and secretary/treasurer of the Wanda & James M. Moran, Jr. Foundation offered to match donations in support of Haywood Street Community Development through January 15 of 2023, up to $250,000.
The Foundation supports Haywood Street Community Development's belief that the opposite of homelessness is more than housing, that community is an essential ingredient, and housing grounded in the Haywood Street ethos — where giving and receiving are encouraged; where the boundaries of "us and them" are trespassed; where strangers become neighbors.
The offer of a $250,000 match presented a challenge to our community, to join together in support of affordable housing. We are activating an expanded Benevolent Spirits campaign in response to this challenge, knowing that every dollar raised will be matched, doubling our collective effort.
Sign up by to participate in Benevolent Spirits from December 19-January 2.
Download creative assets
- Social media graphics
- Posters
- Table top information sheets
- QR code to donate
Want to donate as an individual?
Use the link below and select "Benevolent Spirits" in the donation form. All donations received before January 15, 2023 will be matched!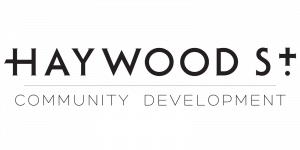 Participating Establishments
Burial Beer
Cooperative Coffee Roasters
Ukiah Japanese Smokehouse
Farm Burger
Copper Crown
High Five Coffee
Chai Pani
Buxton Hall Barbecue
Home Ground Coffee Bar
Homegrown
Sunny Point Café
The Cantina Biltmore
Blue Dream Curry House
Cúrate Tapas Bar
La Bodega by Cúrate
… more added daily!